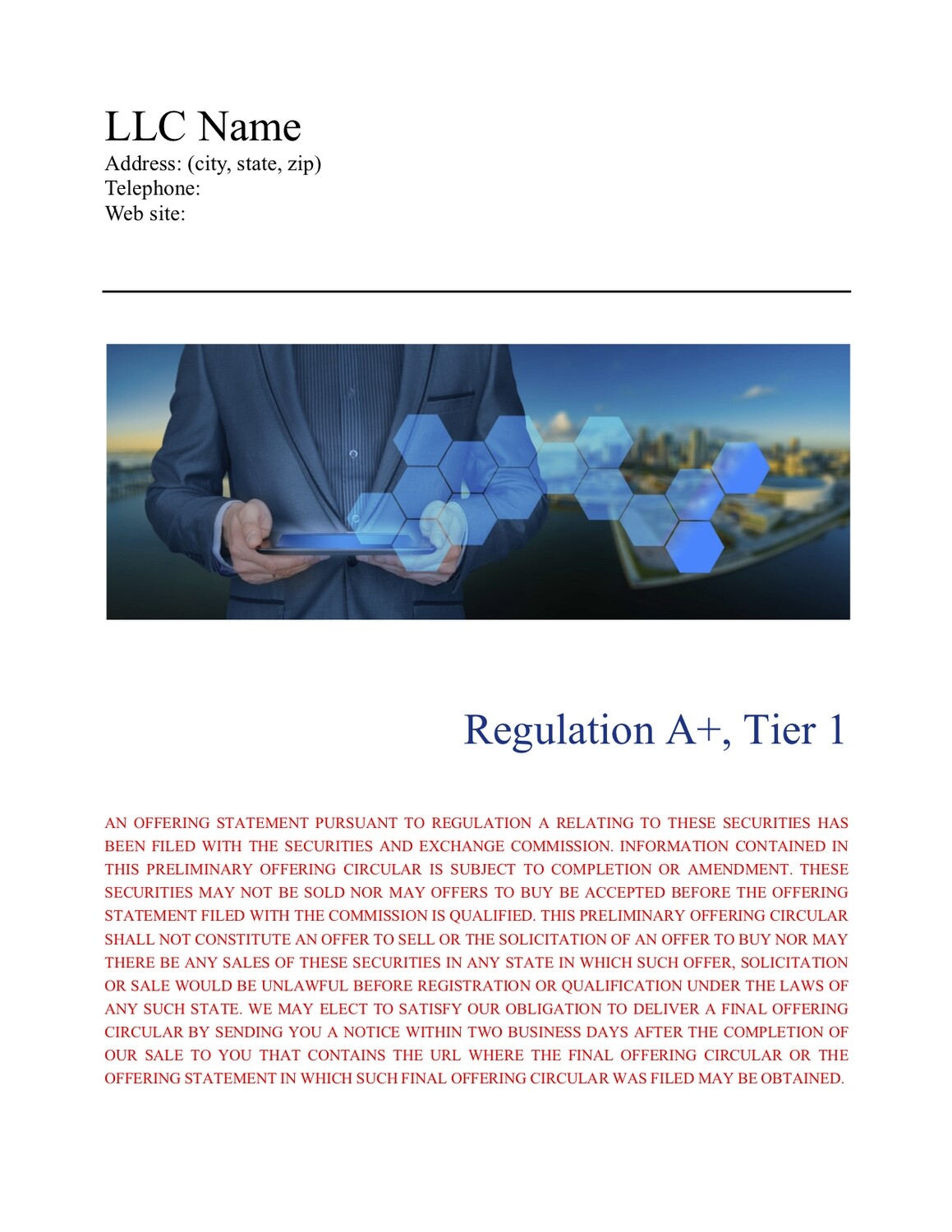 LLC Form 1-A, Tier 1
SKU 00003
Product Details
Complete Set Of Regulation A+ Offering Documents On Form 1-A For Your LLC:
The Offering Statement Including Form 1-A And Offering Circular Parts II And III;
Easy-To-Edit Sample Content "Qualified" By The SEC;
Subscription Agreement, Patriot Act Documents And Other Documents;
Description
Our complete package of Regulation A+ documents is ideal for your LLC issuing Membership Units and using the Regulation A+, Tier 1 offering exemption.
Our LLC Form 1-A, Tier 1 compliant template includes the Form 1-A, Offering Circular (Parts II and III), Subscription Agreement and other offering documents.
The Offering Circular features SEC "qualified" content and is written in Microsoft® Word. All content is easy to edit for your capital raise.
Also featured is Microsoft Word's Mail Merge, a program which will populate the Offering Circular and Subscription Agreement with many recurring facts (company name, address, etc.). You enter this recurring information in the Mail Merge Data Source file (also included) and Mail Merge will populate your Offering Circular and Subscription Agreement with your data. This key feature will save you time in preparing these two documents.
Contents Of The Offering Circular
Cover page;
Table of Contents;
Summary And Risk Factors;
Dilution;
Plan of Distribution and Selling Security Holders;
Use of Proceeds to Issuer;
Description of Business;
Description of Property;
Management's Discussion and Analysis of Financial Condition and Results of Operations;
Directors, Executive Officers and Significant Employees;
Compensation of Directors and Executive Officers;
Security Ownership of Management and Certain Security Holders;
Interest of Management and Others in Certain Transactions;
Securities Being Offered;
Part F/S;
Index to Exhibits;
Description of Exhibits
Important Documents Included In Your Package
Form 1-A;
Offering Circular, Parts II and III;
Subscription Agreement;
Jurisdictional Legends (all 50 states);
ERISA Disclosure;
Complete Set of Patriot Act Documents;
Mail Merge Data Source.
Product And Delivery
The complete set of documents are distributed in Microsoft Word (.docx), Microsoft Excel (.xlsx) and PDF formats. The single zip file, containing all of the documents, is available for download after purchase.
State "Blue Sky" Laws
Regulation A+ Offerings may require pre-filing in some states. Please check with the state regulator(s) for more information on State "Blue Sky" Laws.
Although we created these documents to conform with the disclosure requirements of Regulation D of the Securities Act of 1933, these documents present an array of often mutually exclusive options with respect to particular Regulation A/A+ provisions. We encourage you to tailor the templates to accurately reflect the specific provisions of your Regulation A/A+ capital raise.
Save this product for later